JSM MILITIA IN A CAN - All the stuff you need to get started in the Militia Movement
IMPORTANT MILITIA LINKS AND INFO PAGE 1 PAGE 2 PAGE 3 PAGE 4 PAGE 5 PAGE 6 PAGE 7PAGE 8 PAGE 9
Important latest posting from JSM Patriots
on page 6, 7, 8, 9 until I get a major time
break all new posting shall be on the high
end number pages of Important links
THE MORALITY OF ARMING AND ORGANIZING
THE HERITAGE OF ARMING AND ORGANIZING
JEFFERSON STATE MILITIA OATH OF ALLEGIANCE
"I, ___________________, promise to defend and observe the Constitutional liberties embodied in the Bill of Rights for all American citizens by example, persuasion, and force of arms if necessary. To that end, I intend to arm myself, I voluntarily join the Free Militia, and I agree to obey its commanders -- to the extent that my conscience allows -- for the duration of my service in the Militia and I pledge never to willfully betray the Militia's principles, members, or tactics."
THE REASONS TO ARM AND ORGANIZE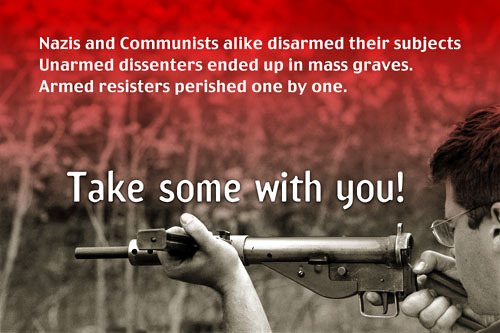 WHO AND WHAT IS THE FREE MILITIA?
EQUIPPING YOURSELF FOR THE FREE MILITIA
SECRECY AND SECURITY IN THE FREE MILITIA
GENERAL ORGANIZATION OF THE FREE MILITIA
I.E.: FORMING A MILITIA CELL AND COMMAND STRUCTURE, ETC.
How To Start and Train A Militia Unit
The Plattsburg Manual
IS-100b Introduction to Incident Command System
Field Manual Of The Free Militia

Militia Training guide

U.S. Army Tactics

Military SERE Manual

Military Mountaineering

Army Military Operations

War Fighting Tactics

Marine Corps Operations

Ground Combat Operations
-------------------------------------------------------

Documents:

FEMA Camps/REX-84

U.S. Army Civil Disturbance Plan

Operation Garden Plot

DHS Right Wing Extremists Report

MIAC Report Modern Militia Movement

FBI Counter Terrorism Lexicon

Domestic Extremist Lexicon

DHS Left Wing Extremists Report

Patriot Act

Patriot Act HR 3163

Jurisdiction of the Jefferson State Militia
is Everywhere Stout Individuals Stand Tall
and Hard for Liberty and American Values ..
JEFFERSON STATE MILITIA
And the Neo-Militia Movement
- What we are about -
What is important to the militia is what is important to all
Americans. We are concerned with the health of this nation.
Militia members are a cross section of the American people.
Many of us have been active in the political realm to voice
our opinion to our elected leaders. Our voice has yet to be heard.
We will not tolerate any trouble makers, bigots,
racists, dissenters of any type first and foremost. We are here
to reestablish the Militias reputation. The militia is a formation
of communities. This is true now as it was throughout the
history of this land. We the people have gathered together to
form one voice in the hope that we will be heard.
Our communities are banding together across this country to
form one voice which is getting louder each day. It is not the
guns of the militia that our government fears, we have not fired
a single shot. The people are uniting together as one to bring
out the truth, justice and liberty that we are Americans!
The Jefferson State Militia is not a "Anti-Government"
hate club or occult of any type. As an "Unorganized" militia
we will CONSIDER assisting local state and government in times where
manpower has been exhausted. We stand against enemies
both foreign and domestic.
THE TIME IS NOW - TO STAND ANONYMOUSLY, IN 1,000's
OF NATIONWIDE SECRET CITIZEN PATRIOT ACTION-CELLS.
ALWAYS VIGILANT, FEARLESSLY AND CLEARLY AT-THE-READY.

WE KNOW WHAT MUST BE DONE AND THAT IS: EFFECTIVELY
OPPOSE, ARREST, AND OR TAKE DOWN THE NWO HIJACKERS
OF AMERICA / EARTH - WE'VE TRIED EVERYTHING ELSE BUT
DIRECT OVERPOWERING PHYSICAL ACTION. SO THE ANSWER,
THE NEEDED ACTON THAT WE PURPOSELY AVOIDED IS THE
ONLY OPTION LEFT ON THE TABLE.

the jurisdiction of the Jefferson state(S) militia
IS EVERYWHERE STOUT INDIVIDUALS STAND TALL AND
HARD FOR LIBERTY AND THE ORIGINAL AMERICAN
VALUES...
- STATEMENT OF POLICY AND DIRECTION -
1. We, the Jefferson State Militia (JSM) shall always be


Section Voided due to Nature of pending Hostilities .


2. In the event of hostile enemy action within the
jurisdiction of the Jefferson State Militia; we
the militia will shall engage enemy forces independently
and or in conjunction with recognized US Military/Police
forces.
3. The Jefferson State Militia roster/membership will
NOT be made public as to ensure the privacy and
safety of our corps, their families and associated
businesses.
4. Jefferson State Militia personnel are responsible
for obtaining and maintaining their equipment, weapons,
and meeting training standards at the direction of
JSM Staff.
5.

Section Voided due to Nature of pending Hostilities .


6. JSM personnel, who have military training are directed


d

to take hands-on leadership roles regarding
drills, field work, and or general and specific education.
7. JSM personnel who are owners and or partners in such
businesses that are relative to militia activities are
'encouraged' to offer such services and or goods at
cost plus ten percent to JSM personnel.
8. JSM personnel and their families are the first
priority in all instances of public safety and or
homeland security. And at no time shall JSM
members and their families be denied any and all the
resources of the JSM deemed necessary to safeguard
and maintain their status as a member in good standing.
9. JSM personnel are encouraged to solicit possible new
members, who fit the general profile and qualification
standards. Such new member candidates will or will not
be approved of JSM staff, depending on circumstances
and privacy issues.
10. JSM is open to all police/sheriff officers, as well as;
current members of any branch of the U.S. Military.
JSM is open to all clergy, medical personal and or
established professional functions of State, City and
County.
11. JSM is open to all levels of the 'working force'
enforcing youth age restrictions and or parental
consent. At no time shall any member or potential
member be denied or disqualified on account
of aging.
12. JSM is at this time NOT open to the mentally challenged,
substance abusers, and or known potential problems
regarding inability to socialize, follow directions, and or
persistent general abuse of the common law.
13. JSM will consider on a 'case by case basis' such
individuals who have yet to obtain U.S. Citizenship
and at no time shall the JSM be bullied, forced
and or intimidated into co-operating, performing
duties and or services that are not within the
interests of the corps.
14. The Jefferson State Militia is modeled on traditional
'secret cell' and or time-honored underground citizen patriot 'guerrilla-action'
15. JSM personnel are required to maintain common moral
standards within the corps as well as the community.
16. The Jefferson State Militia official language shall be American
English.
17. The Jefferson State Militia shall function within
the realm of the Declaration of Independence, the
Us Constitution, The Bill of Rights, the common law,
and applied science.
18.
Section Voided due to Nature of pending Hostilities .