Linda H May 26, 2009 Tuesday morning
8:07 am
We are on the road, should be in
WV by tonight.
We have a full trailer today.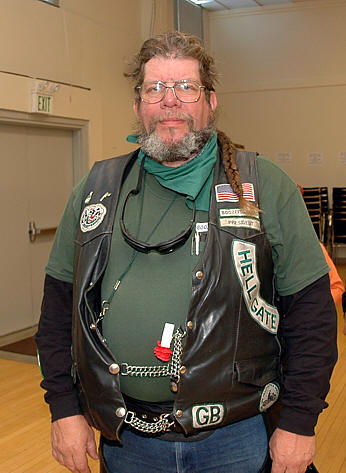 Buck,
from the Oregon Booze fighters had
to put his bike in the trailer until we
have some time to work on it..
We are also hauling Chris' trailer,
he does all the traffic control so it
is safer for him to not be pulling
the trailer.
It's good to have the little ones along;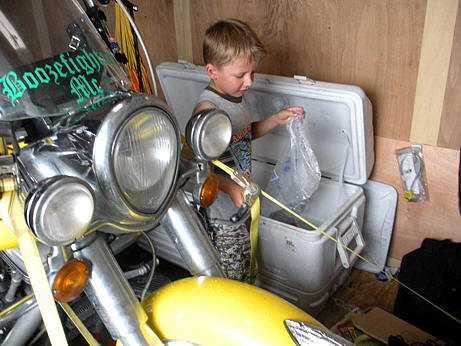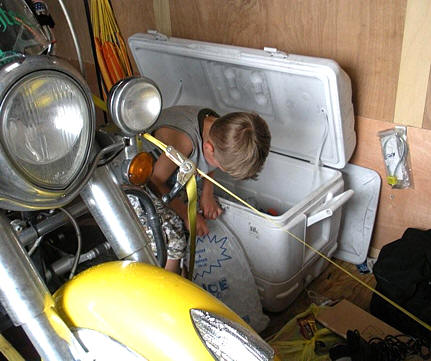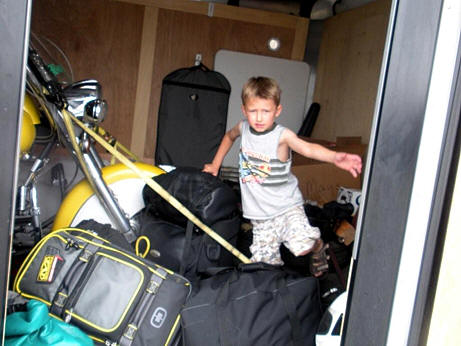 John Wade has to climb over all
the bags to put ice in the ice
chest for us. (continued top opposite page)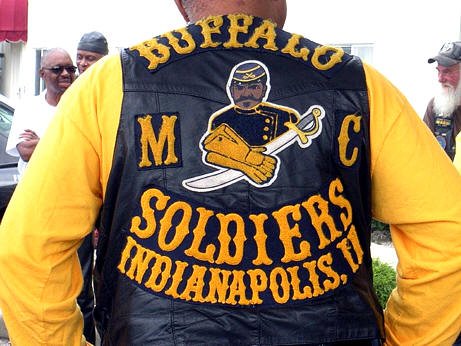 - Note: From Bud -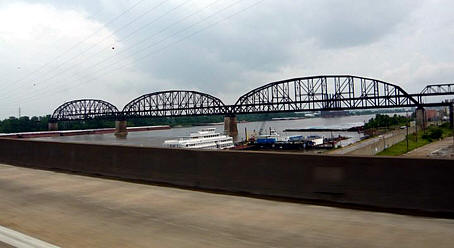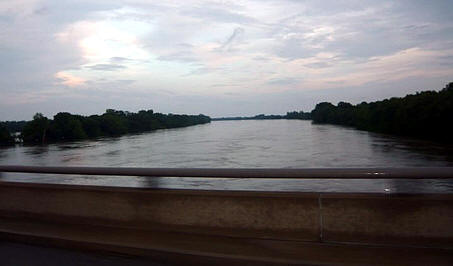 Somewhere around 75 bikes running
with us now.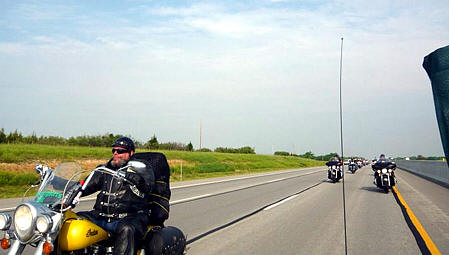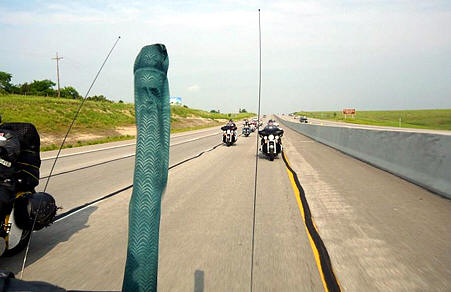 Traveled about 480 miles
today. The day started cloudy no rain
and ended with 2 reeeeally good
downpours. No need for rain gear
right—HA HA HA. My pants get
soaked then air dried, I'm saving
on laundry.

At one gas stop Illinois state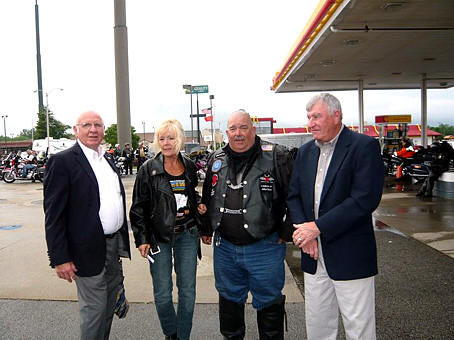 Senator John Jones was there
to tell us how much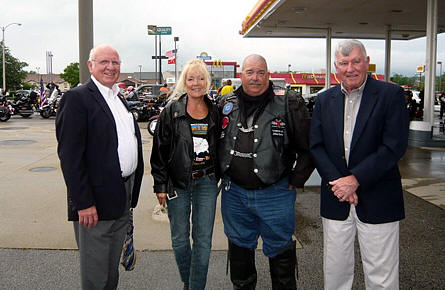 he
appreciated what we are
doing, cool. We arrived at
the hotel about 9pm bone
tired but happy!!!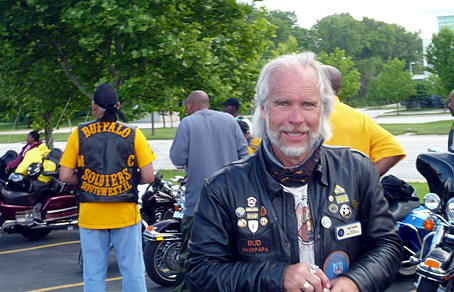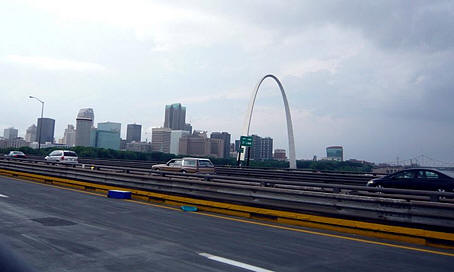 ~Bud
To view his photos, please visit:
http://picasaweb.google.com/budnterr/ArlingtonDay6?authkey=Gv1sRgCNvTq8LqirfbPw&feat=email#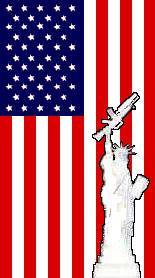 "It's Time To Take Back America!"
"Jim Mark is the Ansel Adams of Event Photography.. "
- David Lubow, CEO Falcon Industries -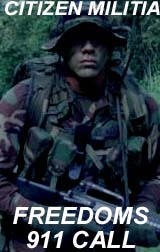 (continued) We hear the Lady from yesterday
(Her bike hit oil slick and went down)
is doing better.
Thank you to the Haubstadt Fire
department for replenishing our medics
supplies, they had used everything
they had yesterday.
Also the PGR gave us a nice welcome
last night. And wished us well today.
Buck is waiting for a text from his
wife, to give me an e-mail address
Where some others are posting
pictures. (www.ubso.info
for more pics of trip)
Until later...
PS, I just asked Buck if he would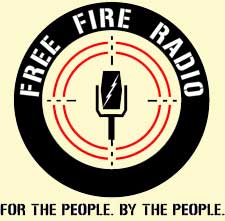 talk on the Freefire Radio show, and
he said no way, he does not want
the whole world to know that a
Booze Fighter is not riding!!!
Hope he doesn't read this ;-)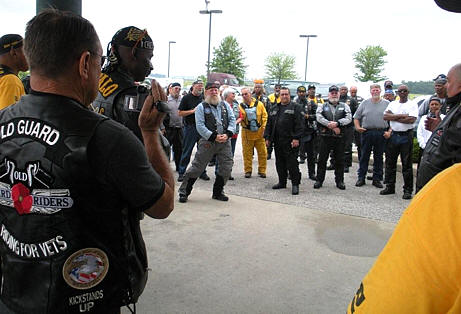 10:05 am
Going through Louisville, we are
stuck in Traffic... the escort missed us....
They have several highway patrol,
including a helicopter. Huge turnout
at our gas stop. many bikes joined us.
The canvas cover for the urns fell
off Long Rider, Darrell thought he
saw it so one of the Highway troopers
went back to find it for us. I hope it
doesn't rain before he catches up,
but it is sunny right now.
We are almost caught up to
the troopers; hope they let
us join in.
OK we got in; we are surrounded by
sheriff cars! I count ten and I know
there are a ton more up ahead
This is soooo Cool!! They are so
honored to do this the patriotism here
is just AWESOME!
Wish National news would cover it!
Everyone send an e-mail to Fox
news or Glenn Beck!!
We have the ENTIRE 4 lane
highway to ourselves!
Talk to you later,
~Linda Hartman
- Message to Linda from John Cleckner -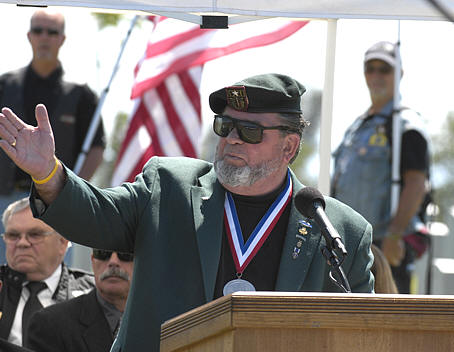 above: John Cleckner US Army Major Retired
We are getting your posts updating us
on the trip to Arlington from Jim Mark.
He is doing a great job formatting the
posts with pictures and words.
I am, of course, saving them all.
I am sending this out to you via the
three addresses I have for you hoping
one will research you and the rest
of the group.
Everyone in Redding sends their love
and best wishes for a safe and
successful trip. Please give Fred
our best wishes also.
God Bless you all and PLEASE be
careful. I know the trip has been
very challenging.
I have not seen any
NATIONAL Press on this.
haven't seen any updates in
the Record Searchlight either.
I haven't seen anything in
the Anderson Paper either.
Has there been any that
you know of?
Please keep sending us updates.
I hope your group has a good
historian. This is one story that
needs to be told when it is completed.
~John Cleckner
Redding, CA
PhotoShop by TheShastaLaker.com
IF YOU WISH TO PURCHASE A FULL SIZED
HIGH RESOLUTION IMAGE FOR PRINTING
DESCRIBE THE PIC AND USE THE EMAIL LINK BELOW
SEND TO ME .. JIM MARK ojimmark@jett.net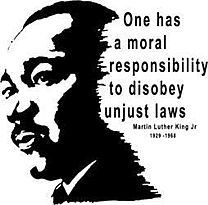 Unless otherwise noted, all materials contained in
this Site are copyrighted and may not be used except
as provided in these terms and conditions or in the
copyright notice or other proprietary notice
provided with the relevant material.
This Web Site is owned & operated totally by independent proprietorship and
all content material is the responsibility of the
author or entity of fact.
This Web Page last updated: 26-May-2009 04:03 PM -0700
WEB Page Created by James Mark Enterprises. ® Shasta Lake, California
"An 'artist beyond the call', he (Jim Mark) works an
EVENT the way General Patton worked his
magic on the heroic American soldiers of an era
long gone but not forgotten... not so much as 'Blood
and Guts' as: 'It's Now or Never to Participate in
your Life and show the World to Come - We Did
It with a Smile'. No, Artist Jim Mark is more like
Salvador Dali than any notable artist of the last
300 years" - John Knott, former CIA Officer,
Motivational Speaker and lifelong friend